How Three B2B Payments Trends are Influencing Modern Spend Management
Spend management platforms are having a moment. Rising global business costs and a new paradigm of remote and distributed work are driving businesses to become laser-focused on budgets, value for money, and a transformed talent marketplace.
Nium research shows a six-fold increase in the hiring of international workers from 2020 to 2021. Another recent report(1) revealed 62% of leaders expect their remote team to expand within the next five years. More than half of leaders (54%) expect their teams to become more geographically distributed in the same time frame too.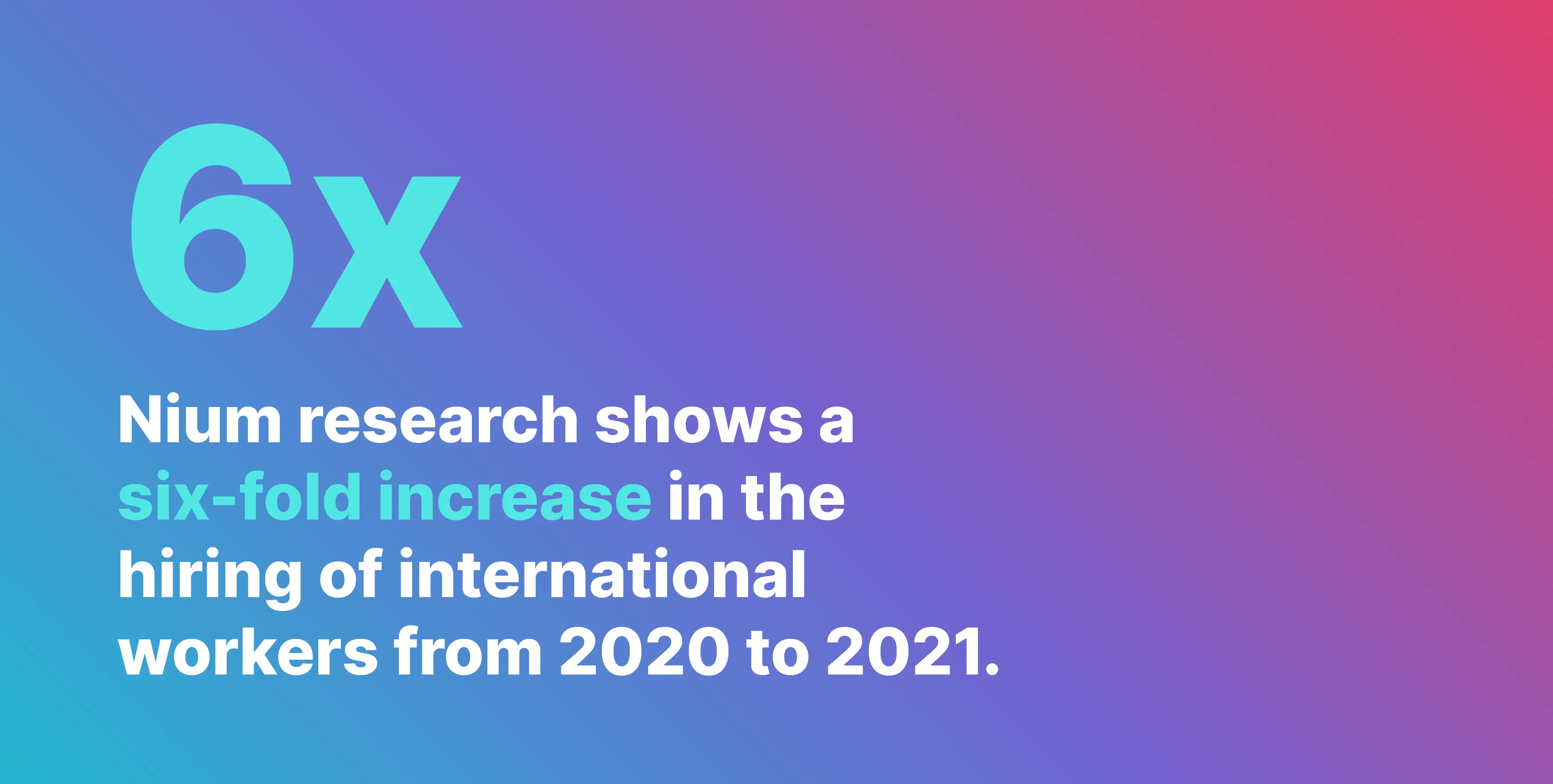 The spend management platform market must rise to these challenges. It is a bustling sector, with Coherent Market Insights predicting growth of more than 11% by 2027.
Spend Management Gets Tough When Firms Scale Across Borders
Spend management platforms help their business clients automate, interpret data, and identify trends to improve procurement efficacy. Businesses greatly need a better model of corporate expense management. For example:
A British study(2) revealed U.K. companies were losing about 2% of annual revenue from poor control of operational expenses. European businesses lose £301 billion a year for the same reason.
Almost 30% of accounts payable departments have reported an "extraordinary" or "significant" impact from remote work, with 53% of businesses forced to change how and when they pay suppliers, which in turn has created pronounced payment delays(3).
These challenges come as AP departments battle pre-existing problems, such as manual data entry, difficulties matching invoices to payments, and lost or duplicate invoices.
Helping corporate customers solve these problems is not easy. Some leading spend management platforms are now decades old. Often, legacy technology makes it hard to simplify new spending and payment complexities in an agile and affordable way. But three key trends in B2B payments show spend management platforms have options.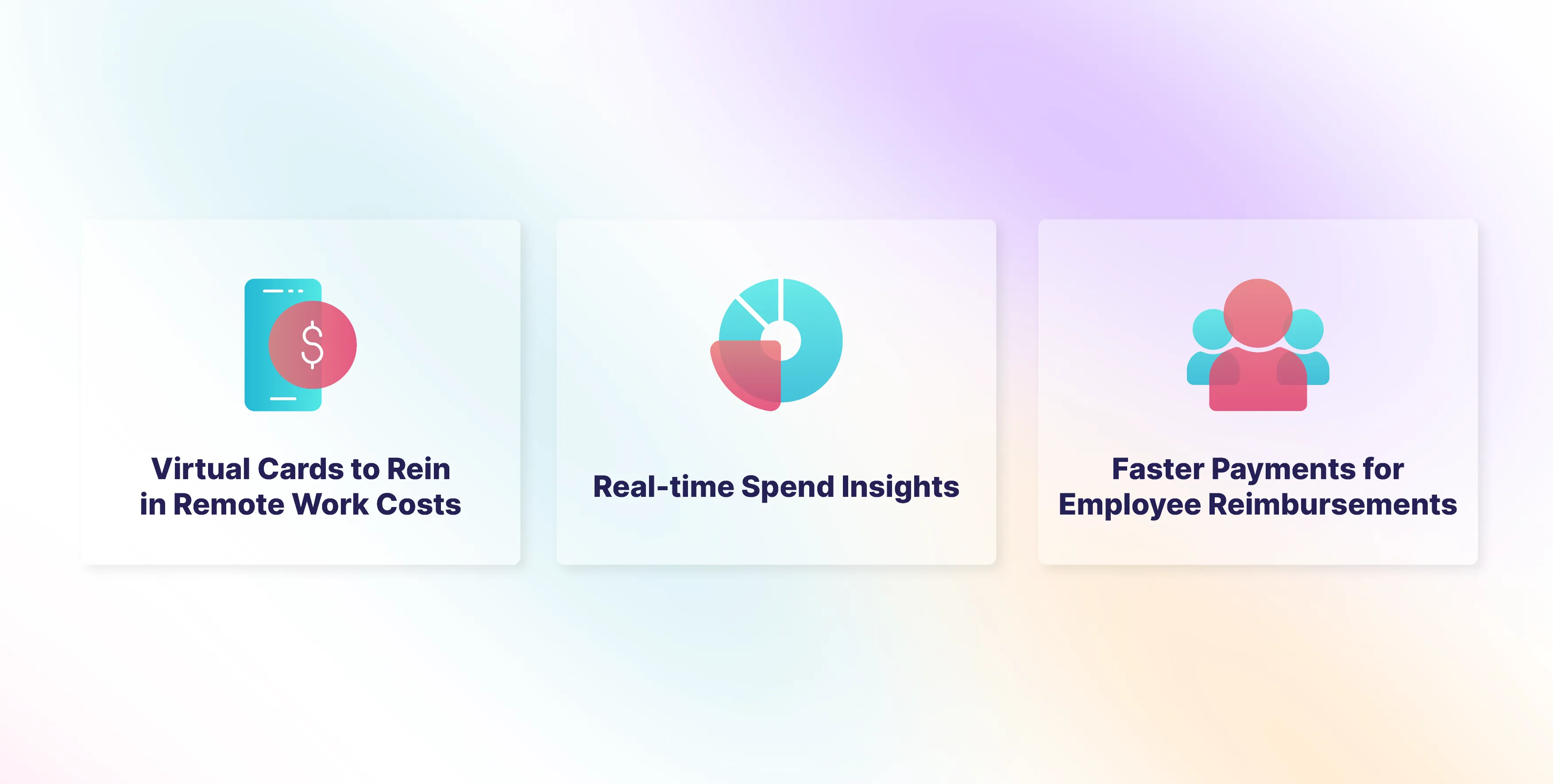 1. Virtual Cards to Rein in Remote Work Costs
Firstly, the corporate card is changing. Virtual cards can have individual spending controls with special authorizations, merchant restrictions, and limits on how much — and where — employees can spend.
Providing remote employees with such expense cards can save a fortune. Spend management platforms can help business customers instantly issue virtual cards for any purpose. Cards can be deactivated immediately after to prevent overspending and potential fraud.
Virtual cards can help rein in business travel costs too. Around a fifth of travel managers still allow corporate travelers to use cash and personal credit cards, according to a recent survey(4). Spend management platforms want to help customers avoid this because cash and personal card use make it almost impossible to capture travel spending. Virtual card programs can be helpful in these cases.
Virtual cards are also partly how spend management platforms can help clients rid themselves of one of their most outdated and burdensome accounting processes: the expense report.
2. Real-Time Spend Insights to Replace Expense Reports
Consider the frustration expense reports have caused. The Global Business Travel Association (GBTA) estimates it takes 20 minutes to fill out one expense report and 18 minutes to correct one(5) If that wasn't frustrating enough:
a single expense report costs $58
a fifth of all expense reports have errors
and each corrected expense report costs $52.
By partnering with a B2B payments partner like Nium, spend management platforms can access auto-logged transactions, approval histories, and receipts. And this can help end the era of the expense report for good — much to the relief of CFOs and finance teams everywhere.
3. Faster Payments for Rapid Employee Reimbursements
Fintech integration is helping spend management platforms to speed up and simplify expense reimbursements for their customers too. Manual expense reimbursements have been time-consuming.
A recent PwC report suggests slow reimbursement can lead to financial stress for employees and even cause them to consider alternative employers(6). Automation and rapid B2B payments can prevent this.
CFOs are digitizing accounting operations, driving a broader use of payment methods(7). Some 50% of CFOs say digitization has allowed them to support an increase in more efficient payments through:
Regular automated clearing house (68%)
ePayables with virtual cards (55%)
Businesses can now increase the speed of reimbursements with virtual and physical corporate cards available through modern expense software, consequently removing out-of-pocket costs completely.
Scaling Spend Management Platform Payments
Nium overcomes the complexity of modern B2B payments for global spend management platforms that want to break into new markets. With 11 global licenses and a comprehensive suite of APIs, platforms can deliver:
Automated and real-time reconciliation. CFOs and finance teams buy spend management platforms to help them close their books faster and drastically reduce the time it takes them to keep accounts payable under control. With Nium, your customers can benefit from automatically logged transactions, clear approval history, and organized and categorized digital receipts.
Cross-border and localized payments. Nium has the relationships and licenses to support account-to-account and wallet payments in more than 190 countries, in 100 currencies, and across multiple payment methods.
Virtual cards and spend limits. Nium helps your platform enable businesses to issue cards and approve or deny individual payments, categories, and merchants. For finance leaders and their teams, this delivers a meaningful reduction in maverick spending and tail spend, advanced transaction management, and greater expense oversight.
Download our guide: Scaling Spend Management. To discover how your spend management platform can upgrade its payments, book a call with a Nium payment expert today.
Sources
1. Remote: 2022 Global Benefits Report
2. Soldo: Better Spend Controls Key To Pandemic Recovery
3. Ardent Partners: Accounts Payable Metrics That Matter In 2021
4. EDC/Advito: Future-Proof Your Corporate Travel Payments Strategy
5. Global Business Travel Association: Expense Reports Drain Company Resources
6. PWC: 2023 Employee Financial Wellness Survey