Nium Webinar Explores the Key Elements of Real-time Payments for Global Businesses
Real-time payments have become an indispensable method for global businesses to send and receive money efficiently. A remarkable 86% of large and enterprise businesses now utilize this innovative money movement approach. With the market size projected to experience a compound annual growth rate (CAGR) of 35.5% from 2023 to 2030, it's evident that real-time payments are here to stay. However, in a noisy environment where not all payment platforms offer the same features and level of service, choosing the right B2B cross-border payments provider becomes crucial.
Recently, Nium hosted a webinar shedding light on its comprehensive offerings and how the teams address the questions and concerns of prospects from financial institutions, global payroll platforms, spend management platforms, marketplaces, and the travel industry. Featuring Ranaditya Palit, V.P. and Product Head of Platform, and Gabriel Grisham, V.P. and Head of Business Development, the experts discussed the four essential elements that matter most to businesses—reach, cost, speed, and efficiency—and how Nium, a leading payment solutions provider, addresses them.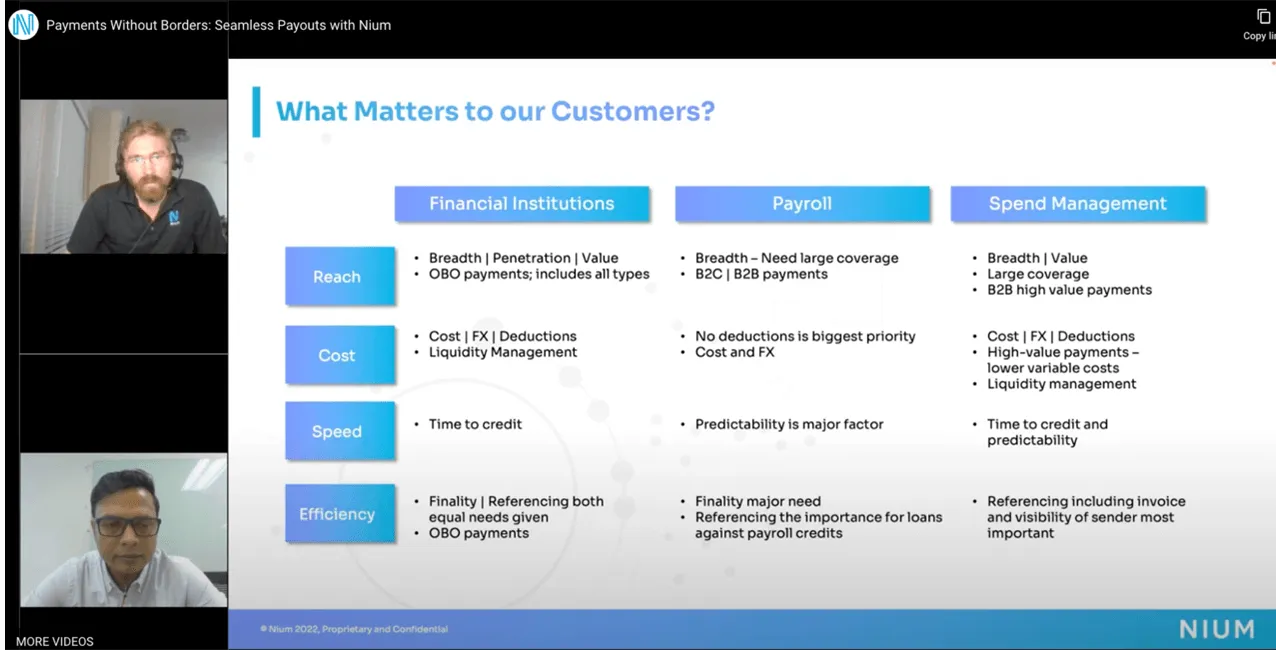 What matters most for cross-border payments?
1. Reach: With Nium, customers can pay anyone, anywhere, given our capabilities for payouts and payins in over 190 countries and territories via virtual/physical card issuance, Local (ACH), and more.
Gabriel put it this way: "We've built one of the most efficient platforms around the world for what we call 'local payout'. It's really access to global banking infrastructure with one integration. That's where we separate ourselves from the market – with over a hundred currencies going out locally."
-
2. Cost: Two of the biggest costs when sending payouts are the foreign exchange rate (FX) and service fees. Nium offers a locked FX rate for 48 hours and a zero-deduction fee structure on wire transfers. Together, this ensures that each time a Nium customer sends a payment abroad, they'll know exactly how much it will cost before initiating the wire transfer, who sent it, and be able to track it in real-time.
Rana offered this example: "Nium's 24/7 payments processing is something you rarely get with a bank anywhere. If you were sending after banking hours, you might get a stale rate that isn't applied when your conversion is done. You might get a quote at midnight on Saturday. It doesn't matter where you are in the world, our system is up, and it's running, and you'll know exactly how much is going to get delivered as soon as banks do open again on Monday."
-
3. Speed: To date, over 70% of payouts on the Nium platform are transacted in real-time. A major reason for Nium's speed is simplified, robust APIs, which make set up and sending straightforward.
Rana explained it like this: "Today, on our platforms, using just five to six API calls, you can start sending money. And it's the same API that you use for sending money to any country, any currency, and any payment method. So, you do one integration with us. Add to this, over 70% of payments today are done in less than 15 minutes."
-
4. Efficiency: Compliance isn't often discussed in terms of efficiency. Instead, it tends to be considered a necessary step that slows down the process of cross-border money movement. But not at Nium. Nium built an in-house, proprietary compliance stack with a legal team that is second only to engineering in terms of size. The result is a simplified onboarding experience and extremely accurate transaction approval processes.
According to Gabriel, "We pride ourselves on having that in-house. I estimate our compliance and legal team dwarfs our sales team by at least five." Rana agreed and added, "We help customers know upfront what they need to send payment so they can avoid rejections for technical or compliance reasons. Not all companies in our industry do this step, but it saves time and effort for everyone."
-
To hear the full global payouts conversation, watch the on-demand webinar, Payments without Borders: Seamless Payouts with Nium. To speak to an expert, contact us here.